Neighborhood Plants

Learn about the many common, renewable, edible and medicinal wild plants growing in your neighborhood.
Wild Mushrooms

Find out how you may safely identify, collect, and use our delicious, healthful wild mushrooms.
My Articles

Learn more about foraging through magazine articles I've written.
Wild Plant Recipes

Enjoy my tasty, innovative vegan wild plant recipes and mushroom recipes.
Our Tours

Arrange a private tour or presentation for a school, birthday party, camp, scout troop, garden club, or library; or to discover what's growing on your property.
My Resumé

My resumé provides extensive background information about my work and career.
Letter of Recommendation

Letters of recommendation from teachers and kids add another perspective on my background and work.
Press

The press clips page provides entertaining and informative coverage by diverse journalists.
TV Clips

Watch TV clips of my best current and archival appearances on local, national, and international news and talk shows, plus my public access show.
You can also watch me on YouTube or subscribe to my channel there.
Radio Clips

Listen to radio clips from news and talk show appearances, plus archives of my popular NY environmental listener-sponsored radio series.
Books

You'll also enjoy reading excerpts and reviews from my critically acclaimed books which you may purchase, autographed to you), plus my DVD, loupe, and app.
Wild Cards

Buy a pack of Wild Cards, a deck of beautiful playing cards created by foraging teacher Linda Runyon, elucidating 52 common wild edible and medicinal herbs and greens.
Chess

Enjoy chess? Then check out some of the best tournament games from my pre-"Wildman" days.
World's Fair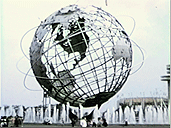 Old enough to remember the 1964-1965 NY World's Fair in Flushing Meadow-Corona Park in Queens? Watch my 8mm silent movies of "the Wonderful World of Tomorrow" that never came to be, just 45 short years before Iron Man II was shot there! Watch Part 1 and Part 2.
Green Links

Finally, discover the best related websites on my extensive GreenLinks page.

The Wild Edibles App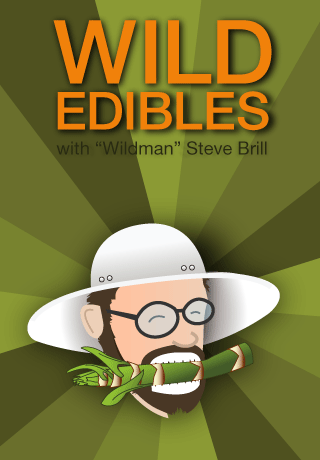 The Wild Edibles Series: The Master Apps for Foraging
Everything you need to know to identify, harvest ecologically, and use 167 of the best wild edible and medicinal plants of North America, plus details of about 57 look-alikes, available for the iPhone, the iPad, and Android devices. Try the free lite version!
Go to the iTunes Store and search for WildEdibles by "Wildman" Steve Brill.
The Wild Vegan Recipe App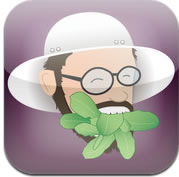 New!! The Wild Vegan Recipe App
The Master App for Wild Food Preparation
Learn to make over 800 delicious, healthful recipes using wild plants and mushrooms.
Shop Now!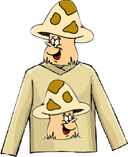 Buy Foraging T-Shirts I designed with original photos, paintings and drawings, covering a wide range of plant and mushroom themes.
WHY ME?
Information about why you should choose me for your next foraging adventure:
Been around for over 37 years!
Recommendations
Professional and knowledgeable
American's go-to guy for foraging
Provide tours for all ages
Awesome apps available for iOS or Android
Author of 5 books
Arrested and handcuffed by undercover park rangers for eating a dandelion in Central Park
My Vision
I teach adults and kids about the many common, overlooked, renewable wild edible and medicinal plants and mushrooms that people often destroy as "weeds." By studying foraging and participating in nature in this non-destructive manner, we can increase our enjoyment of nature, grow healthier, and reaffirm our commitment to preserving and rebuilding our ecological riches. It's especially important for kids to have such experiences, and my 14-year old foraging expert daughter, Violet, co-leads half the tours.