Private Events
"Wildman's" Library Program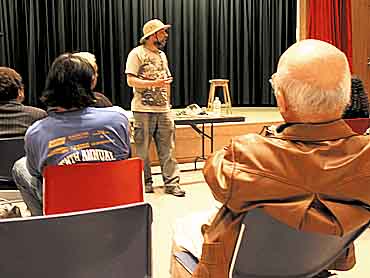 "Always try any unknown plant on the in-laws first."
This hands-on environmental program focuses on common wild plants, putting people in touch with their environment and motivating them to understand science and to practice conservation. Adult and children's audiences get to see, touch, smell, and taste representative species of the wild edible and medicinal herbs, greens, fruits, berries, nuts, seeds, roots, and mushrooms that make up the backbone of our local ecosystems. Many of the specimens are the same "weeds" people remove or destroy in their backyards or gardens.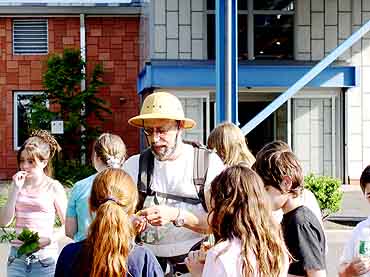 Munching on the Grounds of the Middle Country Library
Few of us are familiar with these common renewable resources, or with their identification, natural history, food and medicinal uses, or with the folklore and science associated with them. Because we live in an age when environmental issues are crucial, we must do more than provide textbook information if we expect people to understand and appreciate the natural world and to play a responsible role in conservation.
During the presentation, we approach wild plants from various perspectives. We begin with plant identification, emphasizing key characteristics, so everyone can recognize the plants. We include botanical and ecological concepts, and use stories and humor to impart life to the information.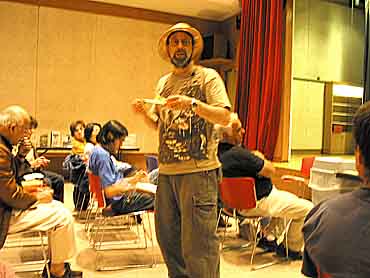 "This bud's for you!"
Conservation is paramount. We distinguish between renewable and nonrenewable resources, and stress the importance of managing our planet wisely. Appreciation of nature, more than fear of environmental destruction, leads us to take conservation to heart.
We also bring up my well-publicized history as an urban naturalist, including my arrest by undercover agents for eating a dandelion in Central Park.
The program runs from 60 to 90 minutes. It can be geared towards adults, children, young adults, or audiences of all ages. The goal is to get people directly involved with their environment, and to inspire them to protect and preserve our nonrenewable natural resources.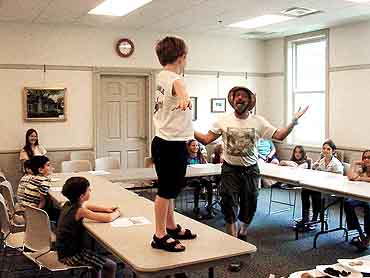 A tree grows at the Southbury Library
Watch a presentation for the Pleasantville Garden Club
November 5, 2009
Intro, Lamb's-Quarters, Epazote, Black Walnut, Burdock, Mugwort, Chickweed, Goutweed, Kousa Dogwood, Chicken Mushroom, Oyster Mushroom, Conclusion
Contact
Phone: (914) 835-2153
Email: wildman@wildmanstevebrill.com