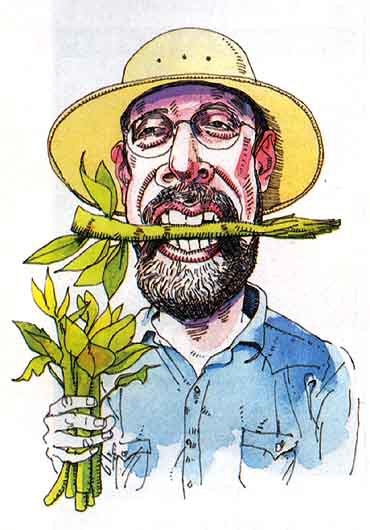 Written, illustrated, and photographed by Wildman" Steve Brill and colleagues.
FORAGING WITH THE "WILDMAN":
The Master Foraging App
Buy the full version, or get the free lite version You can buy the apps by using the links below, or search for them in the iTunes Store or Google Play. To avoid confusion, be sure they're by "Wildman" Steve Brill.
iOS VERSION, for iPhone and iPad
Wild Edibles Forage — Explore free edible plants in your backyard and beyond. This is the ultimate foraging guide. Identify, cultivate, and prepare over 250 plants! Created in collaboration between "Wildman" Steve Brill, Becky Lerner, Christopher Nyerges, and Winterroot
PARTIAL IOS VERSION
Wild Edibles Lite — Free!
FORAGING FLASH CARD SERIES
Foraging Flashcards Early Spring—$0.99
Foraging Flashcards Spring—$0.99
Foraging Flashcards Summer—$0.99
Foraging Flashcards Fall—$0.99
Foraging Flashcards Fruits—$0.99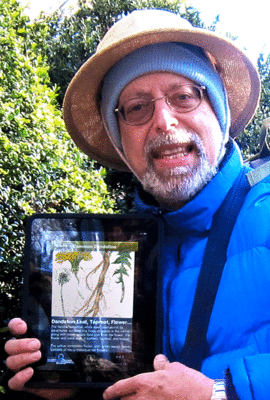 "Wildman" demonstrates the common dandelion on his then-new iPad 1, back in 2011!
The full app will give users of all hand-held devices the in-depth information they need to identify, harvest ecologically, and use 250 of the best wild edible and medicinal plants of North America, plus details of over 60 look-alikes. The focus will be eastern species, plus plants of CA and the Pacific Northwest, as well as many or their close relatives which grow across the country.
This moves foraging beyond what's in any book, taking full advantage of the newly developing media technology. Each plant is paired with up to eight detailed pictures. Hundreds of photos, plus "Wildman's" paintings and drawings, present all aspects of these tasty, nutritious, in-demand renewable resources, in all their seasonal varieties, something simply not cost-effective with print media.
Plants are easily searchable by a number of different criteria (season, habitat etc.) and arranged alphabetically for quick access in the field. Each herb, green, shoot, fruit, berry, nut, seed, root, or seaweed listed contains detailed identification info, a checklist of critical features, scientific and common names, parts used, food uses, seasons, range, habitat, poisonous and non-poisonous look-alikes, related species, cautions, and clarification of any factors that may cause confusion.
The app provides practical tips (and quips) for harvesting the plants ("Never pull out a cattail if there's an Animal Rights activist watching!"), as well as details about preparing them.
Hundreds of original scrumptious vegan recipes, from simple ones such as Garlicky Chickweed with Penne, to elaborate creations such as Black Forest Cake with Wild Cherries, grace this app's electrons. While "Wildman" has been recognized as America's top foraging expert for decades, these innovative wild and vegan whole food dishes will appreciated as soon as you bite into recipes such as Wild American Persimmon Ice Cream, or the unbelievably realistic Cow Parsnip Meatless Loaf (but not if you taste them both at the same time!)
The medicinal uses of the wild plants also get full coverage, from practical home remedies in use for centuries, to explanations of the latest cutting-edge pharmacological and nutritional research, and what they mean to your health.
A big advantage of having such a massive amount of information in an app is that you can use it whichever way works best for you. You may look up the plants alphabetically, by season, or by habitat; or find the best toxic species to have on hand in case the boss drops over for dinner. Foraging with the "Wildman" is completely interactive, so you can switch around, and find anything you're looking for in it whenever you choose.
You can use Foraging with the "Wildman" as a cutting-edge vegan cookbook for wild foods or store-bought alternatives, or just sit back and browse through the modern botanical paintings and drawings that rival anything created by 19th-century naturalists. There's also a detailed introduction to foraging, plus a comprehensive glossary of botanical terms, as close as a tap of the finger.
A lite version with 20 common, widespread, edible lawn weeds is free. The full app costs $5.99. Upgrades will keep becoming available as Foraging with the "Wildman" continues to grow and blossom.
Most plants (somehow, we never got around to testing recipes for poison ivy or water hemlock) come with delicious, healthful, original recipes, and if you want more of these, check out The Wild Vegan Recipe app, with 879 tasty, innovative wild plant and mushroom recipes.
Get the iPhone/iPad version in the iTunes Store, or buy an Android version in Google Play. You may also search for Foraging with the "Wildman" by "Wildman" Steve Brill.
Note: We do not collect or have access to any personal data saved by the "Foraging with the 'Wildman'" mobile apps. Any data that we need to store to remember actions you take within the app is only saved locally on your device.